Embedded Systems Pay after Placement Program
Become a professional Embedded Engineer  in just 4 – 6 Months.  
Pay the Actual Training fee after you receive your offer letter!
(*only for eligible & Selected candidates*)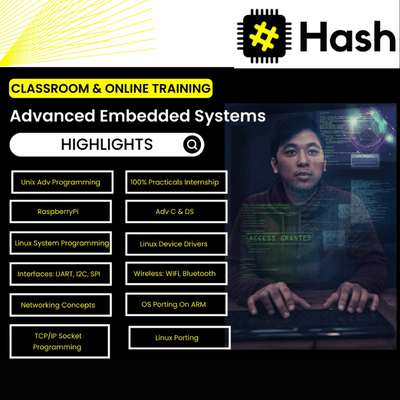 *We are looking to fill 3000+ openings for our clients in the coming 12 months.
Embedded Systems Pay After placement Program Details
Traditional training vs Embedded Hash (Pay After placement Program)
Skills developed after this Embedded Systems training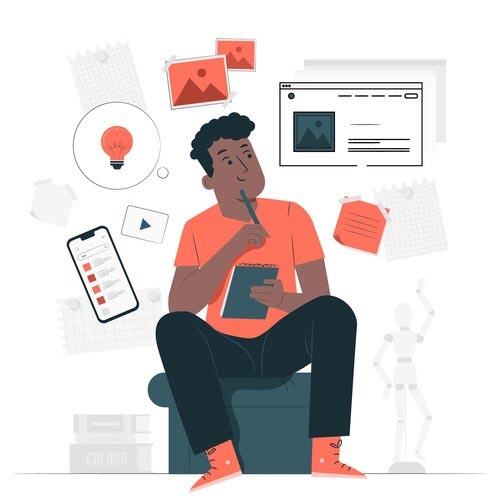 Want a chance to get trained in Embedded Systems with real time industry experts from Top MNCs?
It's not just regular training. It is a career Development Program with assured success (provided you are serious about your career)
Pay After Placement Program Process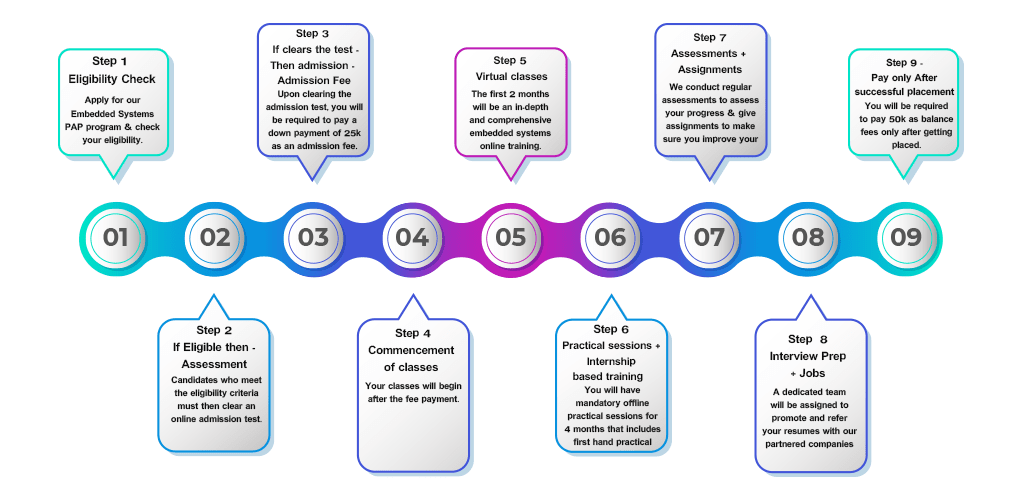 What do you get form this Embedded Systems Training
Who can Eligible for this Embedded Pay After Placement Program?
First ever Embedded systems Pay After Placement
10,000+ job openings for Embedded Systems on Naukri Alone!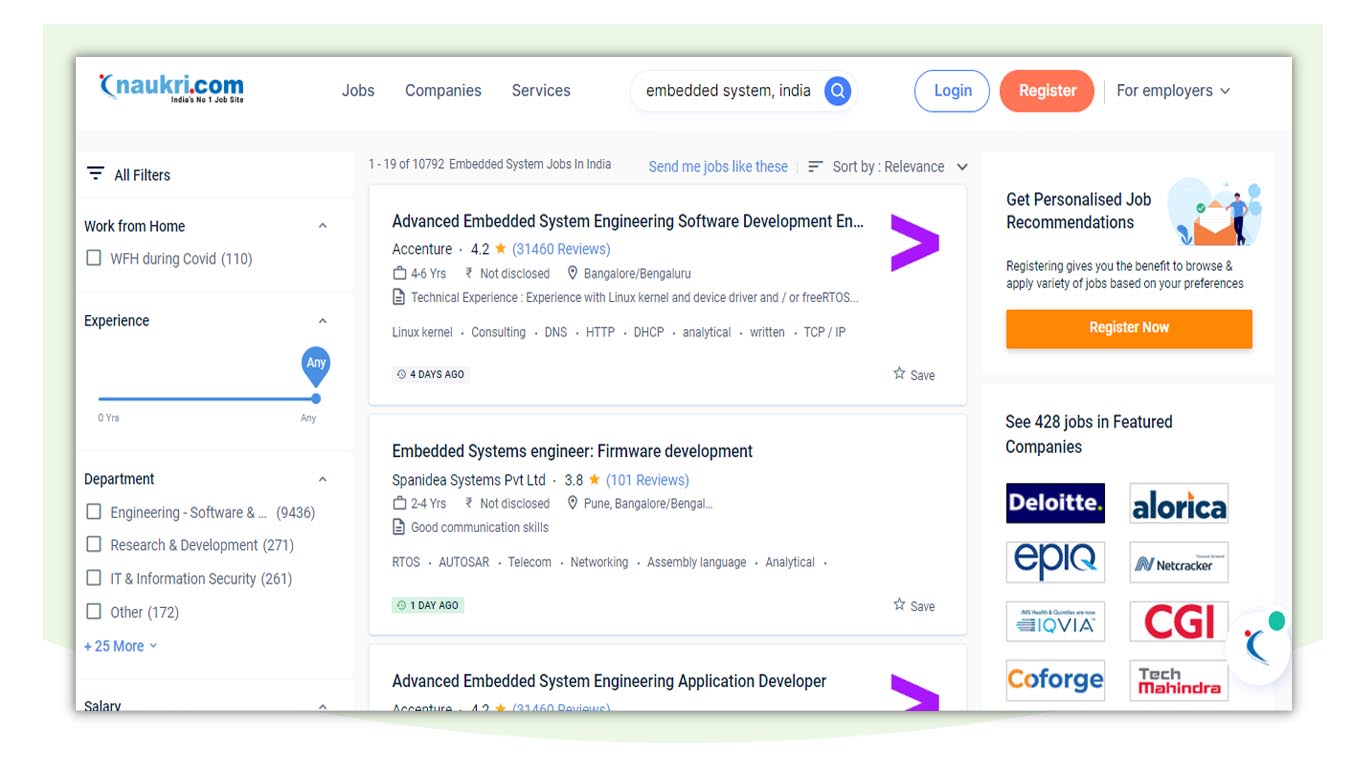 OVERALL LAKHS OF OPENINGS ON EMBEDDED SYSTEMS WORLD WIDE
About Advanced Embedded Systems
An embedded system is a computer system that is designed to perform a specific task within a larger mechanical or electronic system. Such systems are used in a wide variety of applications, including industrial automation, medical devices, and automobiles. 
Typically, an embedded system contains one or more processors and memory and may include peripheral input/output (I/O) devices such as a keyboard, display, printer, or modem. The I/O devices are typically connected to the processor via a bus or communication channel.
The processor executes software programs stored in memory and performs operations specified by the software programs and communicates with the I/O devices over the channel. A computer embedded system has all of the characteristics of a general purpose computer, but it is designed to be used in specific applications. 
It is used to develop a specific set of features in a larger system. For example, the GPS system in your car is an embedded system. Embedded systems may be found in various devices, including cell phones, digital cameras, security and surveillance equipment, toys, appliances, game consoles, medical instruments, and automobiles. 
Many embedded systems include a microcontroller (μC) or other similar type of controller, which provides control and data processing functions for the overall system.
LEARN Embedded Sytems TODAY
For Pay After Placement
FROM Embedded Hash
YES - 100% LIVE TRAINING FROM EXPERT TRAINER
Why Should I Join in This Embedded Hash Pay After Placement Program?
We are training you on Embedded Systems fro
FROM BASIC TO ADVANCED
About Embedded Pay After Placement Program
Embedded systems is one of the hottest courses in the IT industry right now. Embedded systems is an umbrella term that describes a wide range of technologies used in electronic devices and systems. The applications of embedded systems are varied, from the microcontroller in your smartphone to the CPU in your desktop computer. 
We at Embedded Hash are all about training students in embedded systems via innovative and assertive training methods that benefit the students in accelerating their career. Our Embedded Training course is a unique and profitable program wherein we provide candidates with the highest level of aggressive training for 6 months which includes a wide range of technical assignments, live project assistance, everyday tasks and more in Embedded Systems. 
The training will be guided and supervised by some of the top trainers in Hyderabad and will be conducted in a group format with experts available for one-on-one mentoring. The program will have a mixture of live lectures, workshops, labs, case studies and practical application of the skills learned during the training and is designed to prepare participants to work on their own projects with the use of embedded systems. 
We are offering a constructive opportunity to get trained and placed with a downpayment of just 25k as an initial training acknowledgement. Embedded Hash is known for training and placements of over 30k+ students and professionals in top companies like HCL, Delloit, Amazon and more with an impressive track record. 
What will you learn in this Pay After Placement Program?
Frequently Asked Questions
What are the prerequisites to join this course?
Anybody with prior knowledge in electronics and You need a strong understanding of basic programming concepts and a working knowledge of C.
What is the duration of this embedded systems training program?
The embedded systems training is an intensive program of 6 months wherein students will be trained with all the aspects of the course.
What is the fee of this program?
We charge a standard initial fee of 25k which includes a unique learning opportunity where we train our students with all the required concepts and necessities of the industry which includes live projects, lab sessions, case studies, assignments and much more.
What do you mean by pay after placement?
Pay after placement is a unique training experience wherein you will be given the highest level of course training with additional benefits of job placements. We will assist you with the placement programs by helping you achieve a job. You can avail all this at a standard fee of 25k and later pay us the full installment only after you get placed via us.
Will I get sufficient practical training?
Yes of course, we offer 2 month theory based learning that is online and 4 months of offline practical training so you will be given sufficient practical exposure.
Will I get a job after taking this 6 month embedded course?
We will train you with the best equipment, trainers and syllabus to make you competent enough for a job. We also provide placement help and assistance along with the training so you can end up with a job soon after our training program.
Who are the trainers for the embedded systems course?
We have the best trainers with 12+ years of experience in training and coaching industry experts, students and corporate employees.
Can anybody participate in this program?
There is a selection process and only the qualified candidates will get to be a part of the training program.
Is there any scope for Embedded Systems?
Embedded Systems by every means the future with immense scope for growth for job opportunities and career enhancements.
What is the marking criteria for the eligibility exam?
You will be marked according to the assessment in hand and qualify for further training assistance upon clearing the round.