100% Placement Assistance
IoT Course in Hyderabad Batch Details (Online Training)
| | |
| --- | --- |
| Trainer Name | Mr.Chandra Shekhar (Certified Trainer) |
| Trainer Experience | 15+ Years |
| Next Batch Date | 06-11-2023 |
| Training Modes: | Online Training (Instructor Led)/Offline |
| Course Duration: | 6 Months  |
| Call us at: | +91 7997 00 33 55 |
| Email Us at: | embeddedhash.in@gmail.com |
| Demo Class Details: | |
Introduction to IoT
Definition and history of IoT

Basic concepts of IoT

IoT architecture and design

Applications of IoT in various industries
IoT Devices and Sensors
Types of IoT devices and sensors

Communication protocols for IoT devices

Data acquisition and processing from sensors

Sensor fusion and data integration
IoT Networks and Connectivity
Types of IoT networks (e.g., Wi-Fi, Bluetooth, Zigbee)

IoT network architectures and topologies

Network security for IoT

IoT cloud services and platforms
Data Analytics and Visualization
Introduction to big data analytics

Data storage and retrieval for IoT

Data analysis techniques for IoT data

Visualization and reporting of IoT data
IoT Applications and Case Studies
Smart home and building automation

Industrial IoT and Industry 4.0

Healthcare and medical IoT

Smart cities and transportation
IoT Project and Implementation
IoT project management

IoT hardware and software implementation

IoT testing and validation

IoT deployment and maintenance
Key Points of IoT Course in Hyderabad
About IoT Course Hyderabad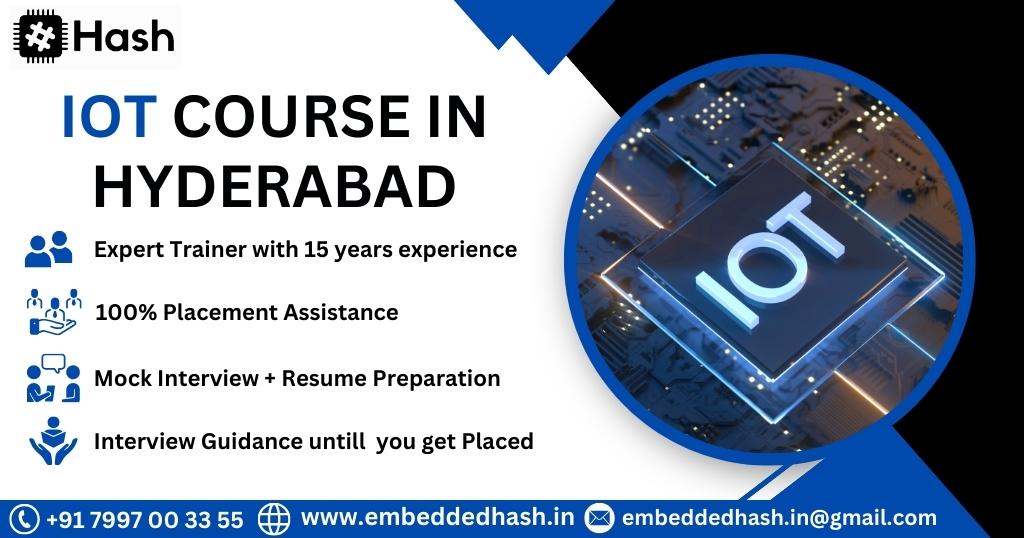 The Internet of Things (IoT) training in Hyderabad begins with a review of its ideas and various applications (IoT). 
After taking this course, you will be able to comprehend the essential ideas behind IoT and its applications. Information on client-server architecture, device architecture, and IoT network architecture is shared. 
There is a detailed discussion of the many kinds of sensors and embedded development boards like Raspberry Pi and Arduino. There is extensive discussion of the several IoT communication protocols (application, wired, wireless, and transport layer).
The Internet of Things (IoT) is a vast network of ordinary objects connected to the internet and equipped with electronics, sensors, and software. 
This technology enables devices to gather and exchange data with neighboring devices and to identify themselves with other devices. 
The Internet of Things (IoT) is having an impact on every aspect of our lives, including how we react and behave as well as how we use electrical equipment like refrigerators, televisions, smartwatches, and other devices that can be managed by our smartphones. 
With the use of sensors inside these devices, which continuously transmit data about the functioning state of the device, IoT provides a platform for all devices to connect.
All of the sensor data is transmitted to the IoT platform, where it is combined and analyzed to provide valuable data.
Embedded Hash provides comprehensive training on IOT, Embedded Systems, Automotive Embedded, Micropython, etc.
What are you waiting for contact us today to learn more about IOT course details and get started stepping towards career change technology.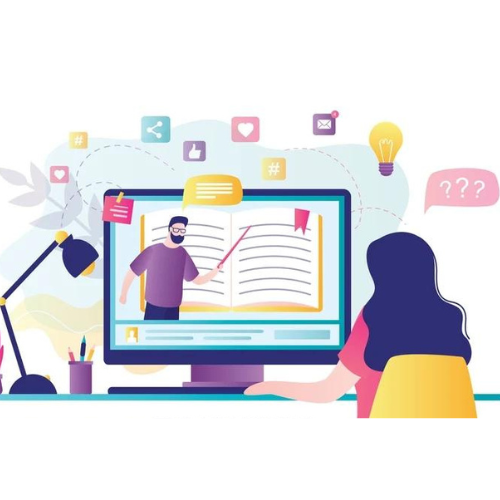 The IOT course in Hyderabad online program at Embedded Hash offers students a distinctive educational experience that accommodates their varied schedules.
The IOT course will be delivered by us via online learning environments and interactive sessions led by our knowledgeable instructors, making it convenient and interesting for students.
All of the abilities that students need to learn in IOT technology are included in our IOT course curriculum.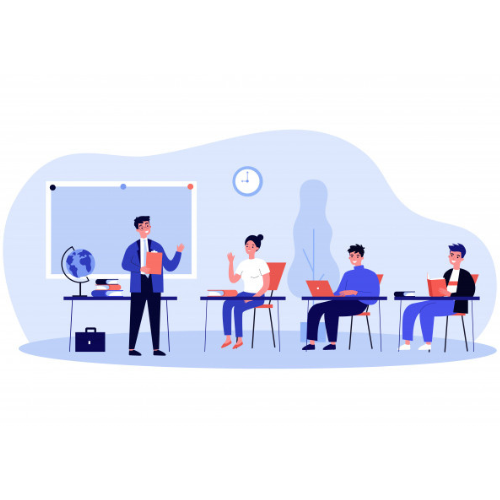 All lessons in the Embedded Hash's IOT course are taught by skilled specialists from the industry at our IOT training facility in Hyderabad.
The IOT structure is covered in all of our offerings. We give students with the knowledge and abilities necessary to excel in the training program through our advanced IOT course syllabus.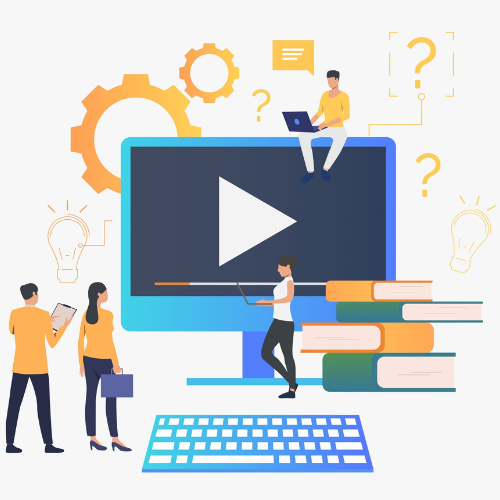 IOT self-paced video course:
The IOT course videos from Embedded Hash are a curriculum of live recordings enhanced with extra resources that you will study in the IOT video series.
The lessons in this set of IOT courses aid students in improving their fundamental IOT abilities. Please feel free to reach out to us during our weekend sessions if you have any queries about the course content.
Why choose us for IOT training?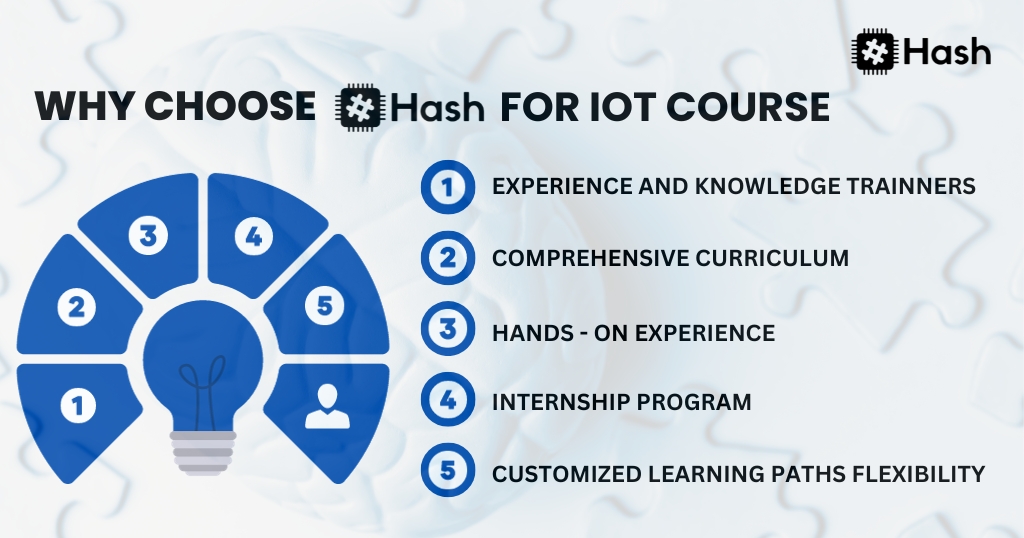 We have experienced IOT trainers that have been giving high-quality training by incorporating business-oriented strategies and methodologies for a positive learning environment for more than 12 years.
The placement support team at Embedded Hash's IOT course in Hyderabad will assist all of our trainees in finding employment in the field of IOT that is a good fit for their skills and will teach them how to negotiate compensation and benefits. with potential employers.
In order to provide each candidate enrolled in our IOT program with equal information and opportunity, Embedded Hash offers customized training that is highly personalized.
Our instructors provide practical skills that help our students in their career placements. They accomplish this by giving 20% theory-based teaching and 80% practical training.
The syllabus for our course on IOT was created by specialists in the field to satisfy the requirements of the job market.
This course content is based on the most recent updates and business trends, and it has been built with beginners and professionals in mind to support them in their careers.
To test their progress in IOT technology, our students will be given group assignments and assessments throughout the course.
Student's Testimonials for IOT Training
The IoT course online training I received was outstanding! The instructors were knowledgeable, patient, and approachable, and they made the complex concepts easy to understand. The hands-on activities and real-world case studies helped me to apply what I learned and develop practical skills.
The IoT course online training provided to me with a comprehensive understanding of the technology and its applications. The curriculum was well-organized, and the course materials were up-to-date and relevant. The instructors were experts in the field and provided valuable insights and tips.
The IoT course in hyderabad program was exactly what I needed to upgrade my skills and stay competitive in my field. The trainers were experienced and supportive, and they helped me to develop a strong foundation in IoT. The practical exercises and simulations were challenging, but rewarding, and I feel confident in applying what I learned to real-world situations.
The IoT course online was an excellent investment for my career. The curriculum was comprehensive and engaging, and the instructors were passionate about their subject matter. The course provided me with a deeper understanding of IoT, and I learned new ways to leverage the technology for my organization's benefit.
I highly recommend the IoT course online for anyone interested in exploring the world of IoT. The training was well-structured, and the instructors were supportive and responsive to questions. The hands-on activities and group discussions were fun and interactive, and I was able to learn at my own pace.
The IoT training program was one of the best courses I've ever taken. The instructors were engaging and knowledgeable, and the curriculum was challenging and relevant. I particularly appreciated the emphasis on practical applications, and I left the course feeling confident in my ability to use IoT to solve real-world problems.
By offering all the technical training prerequisites necessary to master the IoT course for a better work experience and accountability, the certification courses in IOT from Embedded Hash offer structured and targeted training to improve the applicable abilities.
Students who complete the IOT course online or offline and project assignments will receive a course completion certification from Embedded Hash and be eligible to apply for jobs in the field.
Skills developed Post IOT Course Online
Prerequisites of IOT Course Online
Career Opportunities on the IOT
One of the fastest-growing segments of the internet is IoT or the Internet of Things. Use a Fitbit to monitor your vitals while you're running. Using the QR code scanner on your phone, how do you use your bank account to make payments? IoT is available for anything you can think of.
It is altering the way we work and live and will present us with opportunities we were previously unaware of. By 2022, it is expected that IoT will have the ability to boost company earnings worldwide by 21%. Additionally, according to projections, there will be more than 76 billion active IoT-connected devices. Numerous professional opportunities will emerge as a result of IoT development. So if anyone is looking to take a course, we offer IOT course online and offline training.
Here are some of the most significant IoT roles include the following:
The salary range for IoT jobs in India can vary based on several factors such as job role, experience, industry, and location. However, in general, IoT professionals tend to earn higher salaries compared to other industries due to the demand for their specialized skills.
As an approximate guide, here are some common IoT job roles and their average salaries in India:
what is iot architecture?
The hardware and software elements in IoT architecture's data processing layer are in charge of gathering, examining, and interpreting data from the IoT devices. This layer is responsible for gathering raw data from devices, processing it, & making it accessible for additional investigation or action.
what is iot course?
Students in this course learn about the IoT network's architecture, including its sensors, devices, and analysis. It teaches students about ideas including scalability, streaming data processing, and device connection. To demonstrate the cloud component of internet of things projects, the trainers use virtual devices.
Is studying IoT difficult?
It takes a lot of effort to become an IoT developer, but it is made much simpler if you possess the necessary abilities. Continue reading to learn what knowledge, competencies, and training you'll require if you're considering a career in IoT development.
what are the building blocks of iot?
Smart things, IoT gateways, IoT clouds, IoT analytics, and IoT applications are the fundamental building elements of the Internet of Things (IoT). With the ability to sense (and/or act) and having a communicator, embedded processor, and/or actuator, smart things have distinct digital identities.
what is the scope of iot?
IoT enables people and businesses to operate more consciously and effectively by increasing their connection to the outside world. Four separate elements—sensors/devices, connection, data processing, and a user interface—combine to provide a complete Internet of Things system.
is iot part of ai?
A combination of artificial intelligence (AI) technology and internet of things (IoT) infrastructure is known as artificial intelligence of things (AIoT).
IoT coding is required?
IoT devices are created with software that is developed in programming languages and contains instructions for them. They may appear to be devices, but they are actually computers, and the only method to instruct a computer is through a programming language.
What is the learning curve for IoT?
Most IOT specialists will tell you that it takes at least a few months to truly understand the system, however, some would say that it can take years.
Is there a significant demand for IoT?
IoT is a sizable market that connects numerous parties and has its own segmentation. Connecting multiple devices from varied manufacturers, functionalities, interfaces, and protocols is the first step. Enterprise systems then examine the information gathered by these smart sensors to produce useful business analytics.